Natural Nest: A Guide To Home Decor With Natural Elements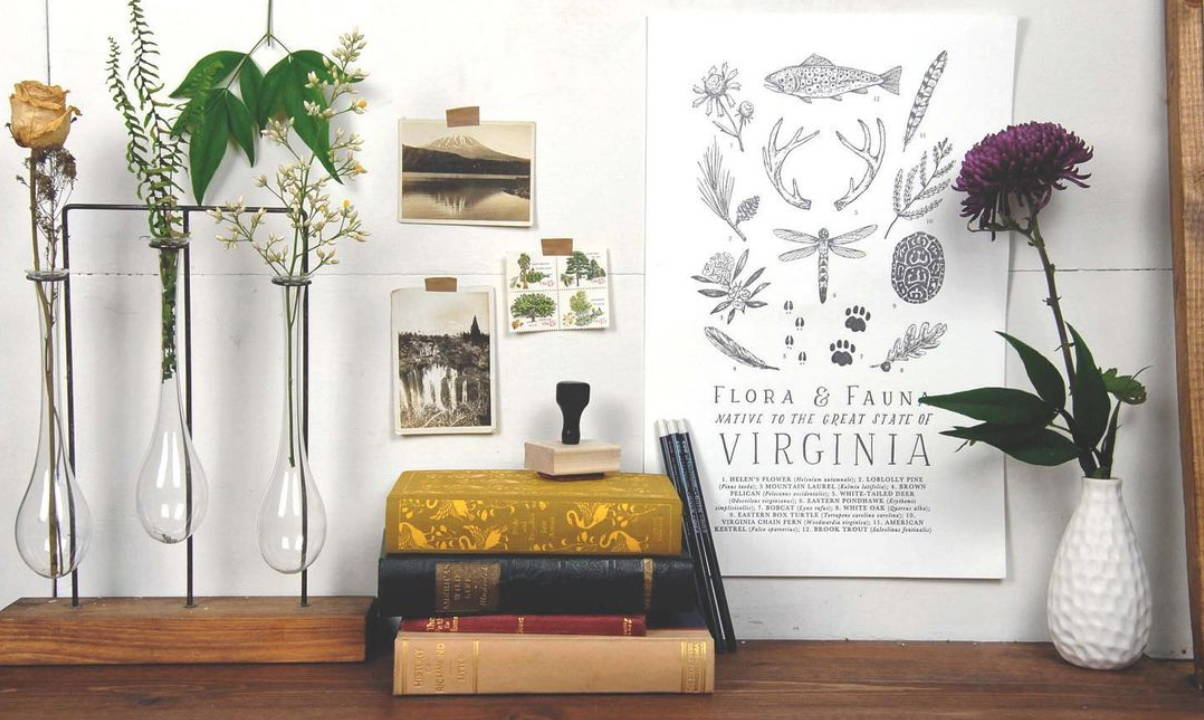 As spring arrives we're greeting sunshine and warmer days, and thinking about how the outdoors can inspire the naturalist home. Recently, we chatted with professional interior designer Hannah Askey to get some tips to help you decorate your home and incorporate natural elements found while wandering in the wild.

There are several styles of interior design you can consider when incorporating natural elements into your home decor. Maximalism uses bold patterns, colors and esoteric design elements to create a full, but not cluttered space. While considered out of vogue, it's been making a comeback as of late. Minimalism, on the contrary, is the exact opposite–using monotone colors, understated patterns and less "stuff" to create a clean, sleek look.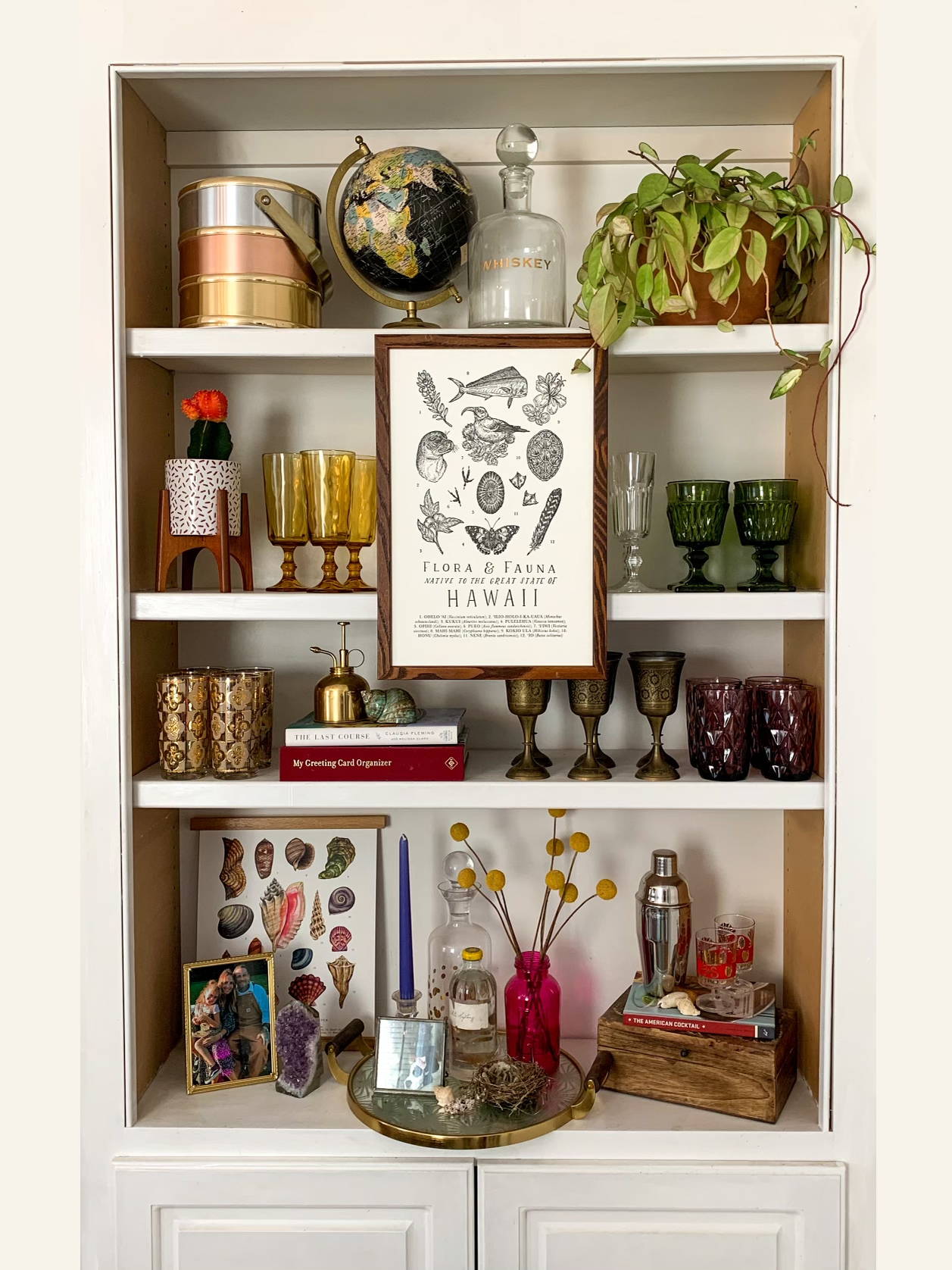 If you consider yourself a maximalist naturalist, you probably already have a healthy collection of natural relics from wanders past.
You may even have a nature cabinet incorporated into your home already. Nature cabinets are a great way to display found goods and create centralized conversation starters in your home. Nature cabinets or cabinets of curiosities date back as early as the late 1500s and were popularized by explorers and noblemen.
Our Field Guides are hand-illustrated letterpress prints directly inspired by old dusty studies brimming with artifacts. These prints are perfect for your nature cabinet, harkening back to the days of illustrated journals and pictorial reference books.
When it comes to styling these detailed spaces, Hannah has this to say, "Layering is the key. Maximize the foreground and hang a framed print on the face of the bookshelf. This can bring depth and texture to your keepsakes. Small lamps and found objects can help balance your shelves. Rotating books in various stacks from vertical to horizontal gives your space more visual texture and room to add. It also provides an opportunity to place some of your favorite finds on top of the books."
We love how full these spaces are with sentimental items. Adding a Field Guide print amongst your organic decor can be a great way to add context and continue the visual storytelling of your home
 In this case, we've taken Hannah's advice and nestled a print in the foreground of a busy built in shelf to create depth and really bring attention to the print. 
Another way to use natural relics in a maximalist way is to create a trendy textured frame. Use your collection of textural elements from natural areas (dried grass, shells, rocks, wood etc.) and attach them thoughtfully to a frame like this braided rattan frame or a kitsch shell frame. Dried wood elements can also become structural points of interest amongst your other keepsakes, like these petrified wood bookends.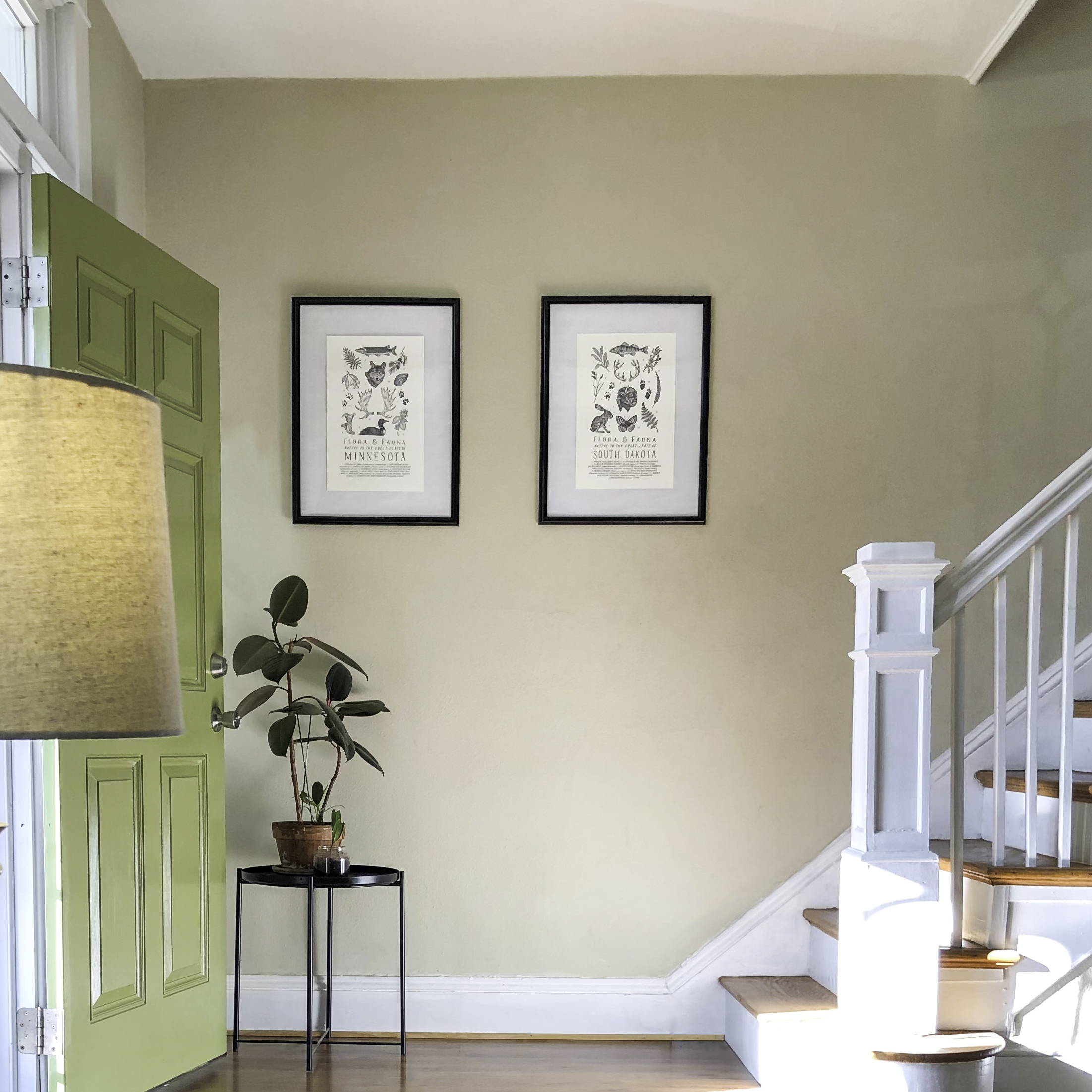 Nature can be a great mentor for minimalism where distractions are removed. Simple and sparse landscapes can feel like a breath of fresh air.
Adding photography and art pieces can reduce the physical footprint of decor in your home, leaving more clean and empty space. Hannah advises "Framing can make a big (yet visually minimal) impact on your print. Frame your prints with the color of your print paper in mind. Make it match and select a mat that is scaled larger for the print to be mounted onto. This leaves a large border and keeps the focus on the art piece. A thin frame with straight edges helps to not distract from the print. Making sure that all your prints frames/mats match is a great way to keep the minimal and consistent design aesthetic."
Using the same colors and textures of our favorite natural wonders is another way to bring the outdoors into your home. You can mimic multi-tonal weathered textures from nature on wall surfaces using a color washing method by layering regular house paint with a layer of thinned paint glaze - a little like watercolor. Try finding indoor plants that mimic the same leaf patterns or colors of ones from your favorite natural spaces, like an indoor cactus or a fern like the one featured in our New York Field Guide.
If you find yourself somewhere between these two aesthetics or just getting your footing creating your naturally inspired space, "Mixing and matching is a fun way to add character to your space. But if you like to keep some things consistent try to frame your art in 2-3 of the same frame styles. This keeps the eclectic look but connects the pieces visually. Your new Field Guide print paired with photography from your travels and found paintings is the start to creating your happy place." says Hannah.
If you're starting from scratch to create an aesthetic for your home, pulling out elements from art prints and matching them with 3-dimensional counterparts could also be a good place to begin.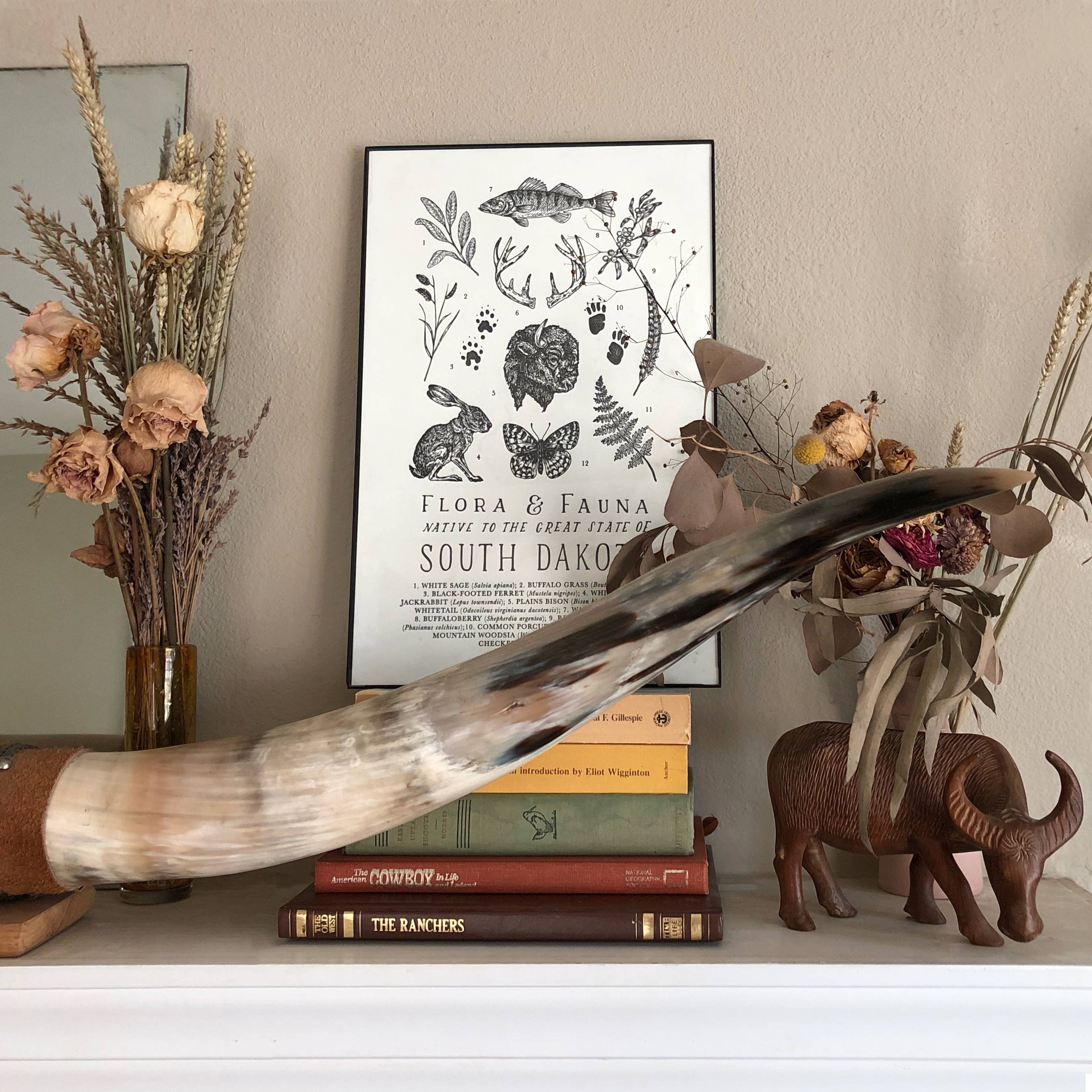 Finding Your Own Treasures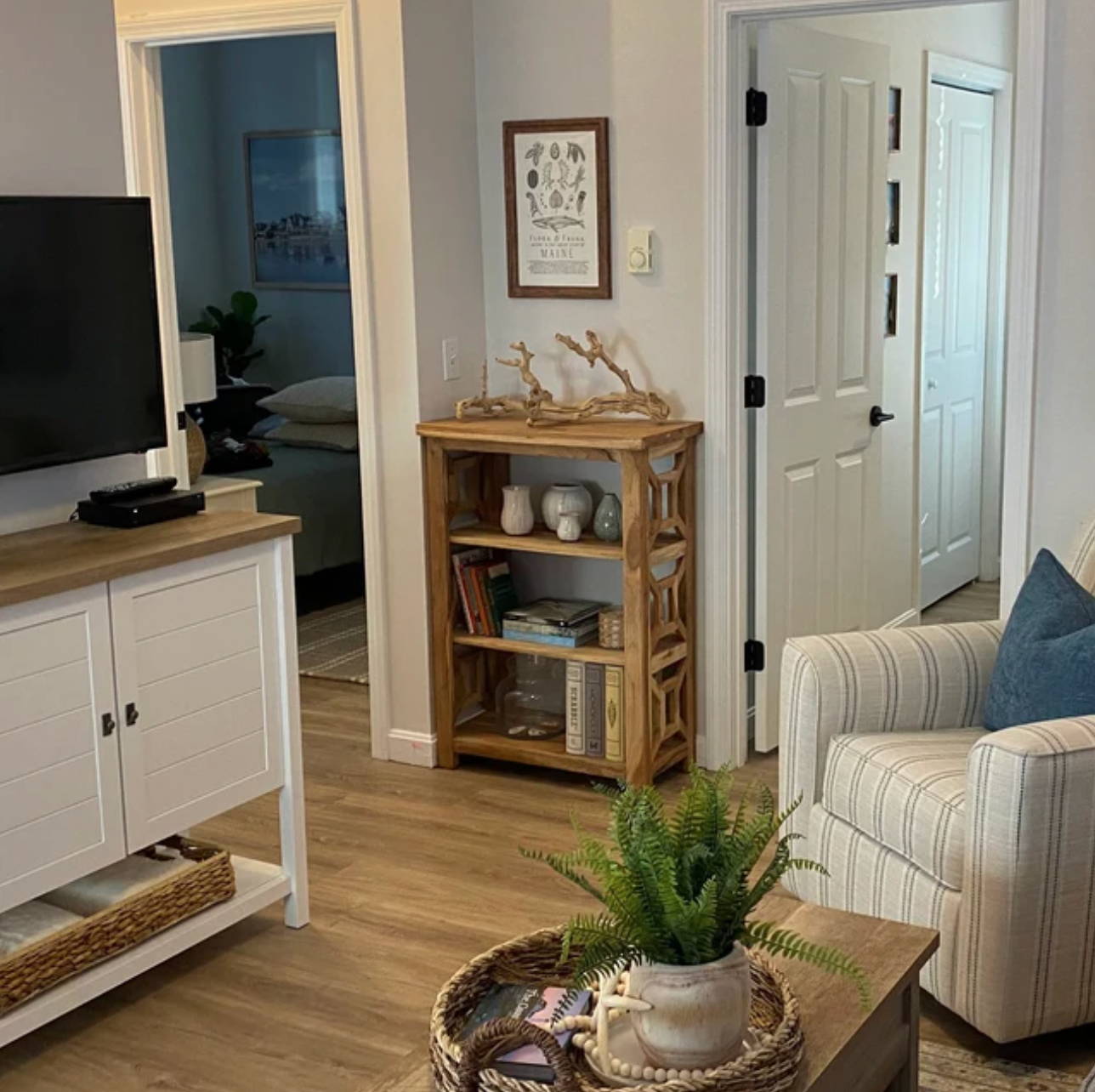 Photo Credit: Michael McNally
If you're looking to add more to your collection, try adventuring into the wild to find your own home decor. For example antlers can be very expensive to buy but are great additions in the homes of hunters or western/plains decor and are featured in lots of the Field Guide prints.
Shed hunting is the search for antlers that have been naturally shed by deer, elk, and other hoofed mammals. Getting out to find antlers could save you money on decor and be a great prompt for your next hike or nature walk.
If you're less into collecting a cache of natural items to add to your home, that's perfectly fine. Leaving no trace is a great set of moral principles to have during your time outdoors. This includes never leaving things behind you or taking anything from the spaces you explore besides memories.

If you are interested in collecting relics, make sure you're aware of all local and federal laws when exploring for natural home decor materials.


Collecting plants on federal lands, in national forests, or parks is illegal without a permit.


If you want to add flowers to your decor, try finding a florist who works with the types of flowers native to your state.


Structural items like branches and grass, (even if they're dried or dead) are often homes for insects and animals.



Pollinators like

queen bees

hibernate in leafy areas during the winter months.



It is also illegal in some states like Hawaii to take

beach sand

.



Alternatively, removing items like sea glass to clean up beaches could be a kinder way to create textured pieces, like this

sea glass mirror frame

.
Whether your home is inspired by your adventures, or your interior design is the springboard for spending more time in nature, we hope these tips inspire you to do both. The entire Wild Wander field guide project started by inspecting the flora and fauna of our home state of Virginia. You can read more about how we got started on our last blog post.
For even more inspiration, check out the flora and fauna in your home state featured in our Field Guide prints

---