Community Feature: Current Culture Fly Shop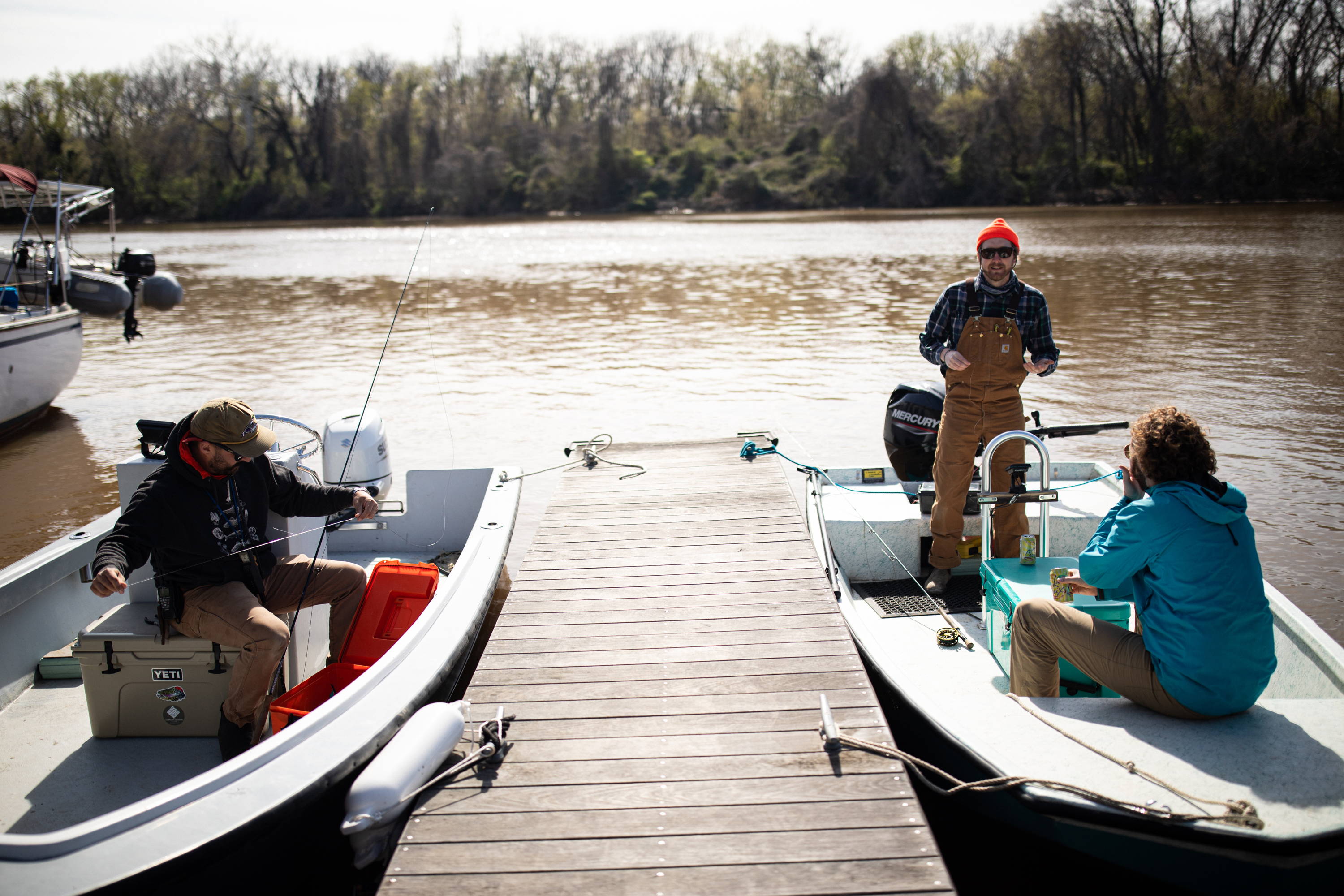 Capt. Simón Valencia Abello (left) and Capt. Reid Parker at Rocketts landing readying to head out for the day.
We recently caught up with our local fly shop, Current Culture for a day on the James River to get a closer look at how they enjoy the natural wonders found in our own backyard. We love their fresh approach to fly fishing and the natural curiosity they bring to the sport. Our conversation was a chance for us to learn more about fly fishing for our newest collection and tell you about this new community hub for people that love the outdoors.
Richmond's Local Fly Shop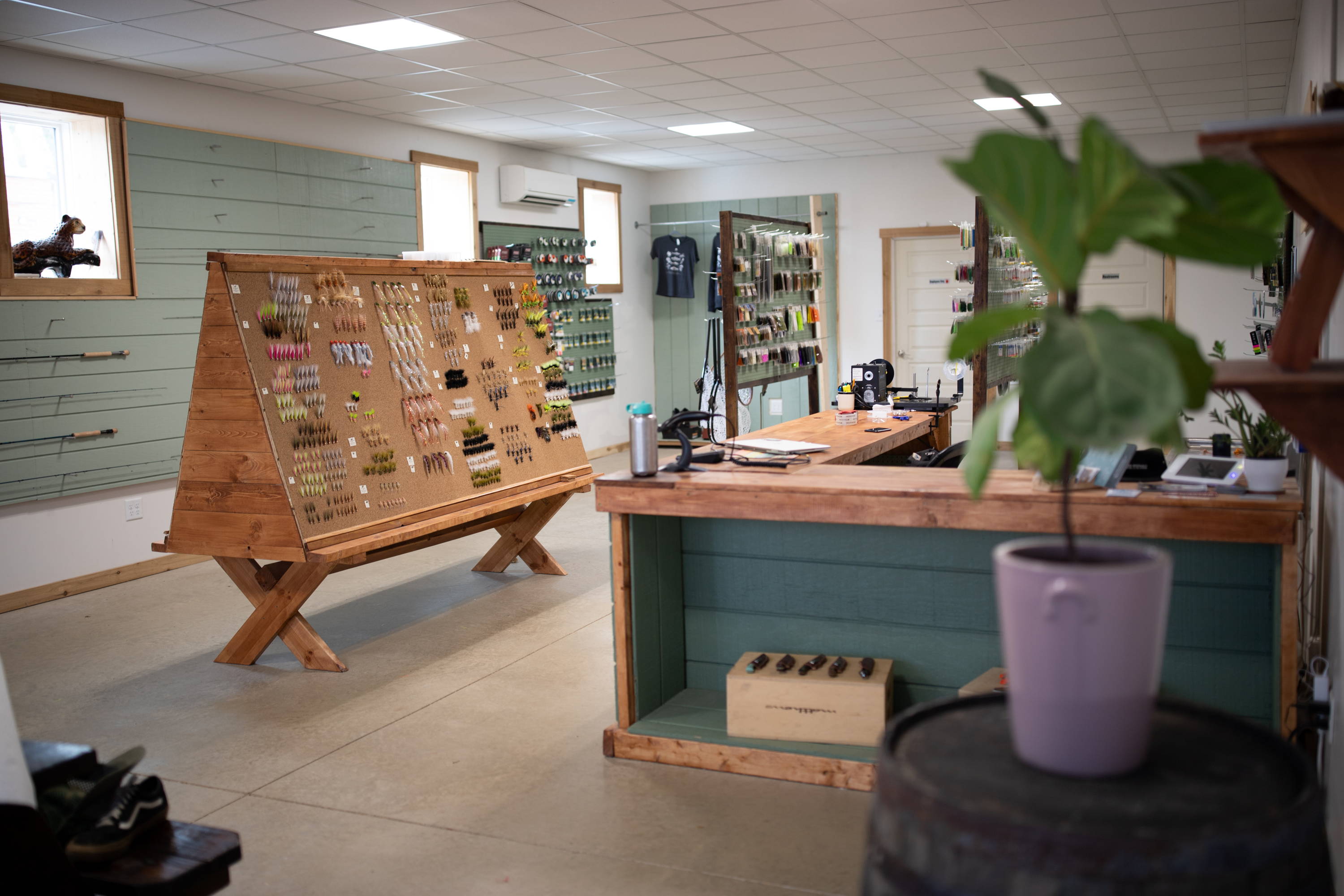 Photo of Current Culture Fly Shop's bright and inviting space in Richmond's southside.
Current Culture is a new fly shop in Richmond, Virginia, having just opened in the beginning of 2022. It's a modest space tucked about a mile from the James River in Richmond's southside neighborhood of Forest Hill. Although they made a quiet debut in January, the community around the fly shop is quickly growing and it's not hard to see why.

Owners and seasoned anglers, Captain Simón Valencia Abello and Captain Reid Parker both spent time working in fly fishing prior to opening Current Culture together. Their current pursuits focus on creating a strong connection to the local community and waters as well as bringing new anglers into the sport, something they felt Richmond was lacking.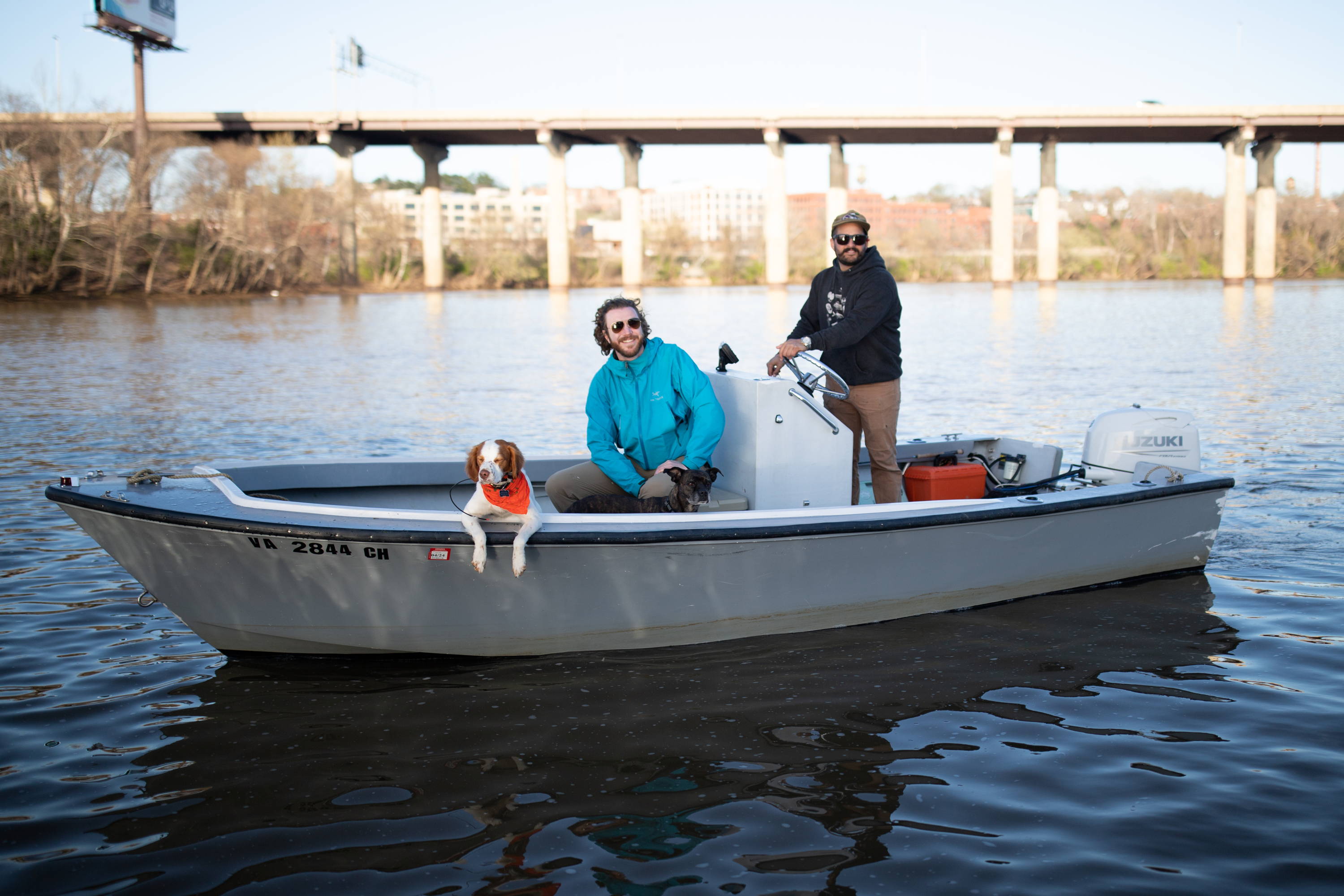 Capt. Simón Valencia Abello and his two dogs on their boat showing friend Drew Gallagher river sights.
Richmond city is split by the James, Virginia's largest river and is positioned on the river's fall line. This creates a unique urban environment with easy public access to a robust river and park system that nurtures recreationalists of all sorts.

While fishing is prevalent on the James' urban waters, fly fishing is certainly the least popular or least considered method - even amongst people familiar with the sport. I asked Current Culture what makes fly fishing on the James unique.


REID: "When people think of fly fishing, they either think throwing a dry fly on a trout stream in Montana, or they think tailing bonefish in south Florida or the Bahamas, which often means smaller, shallow water. They don't think of the James because it doesn't host traditional target species– how we fish for shad for example, is certainly not a traditional method."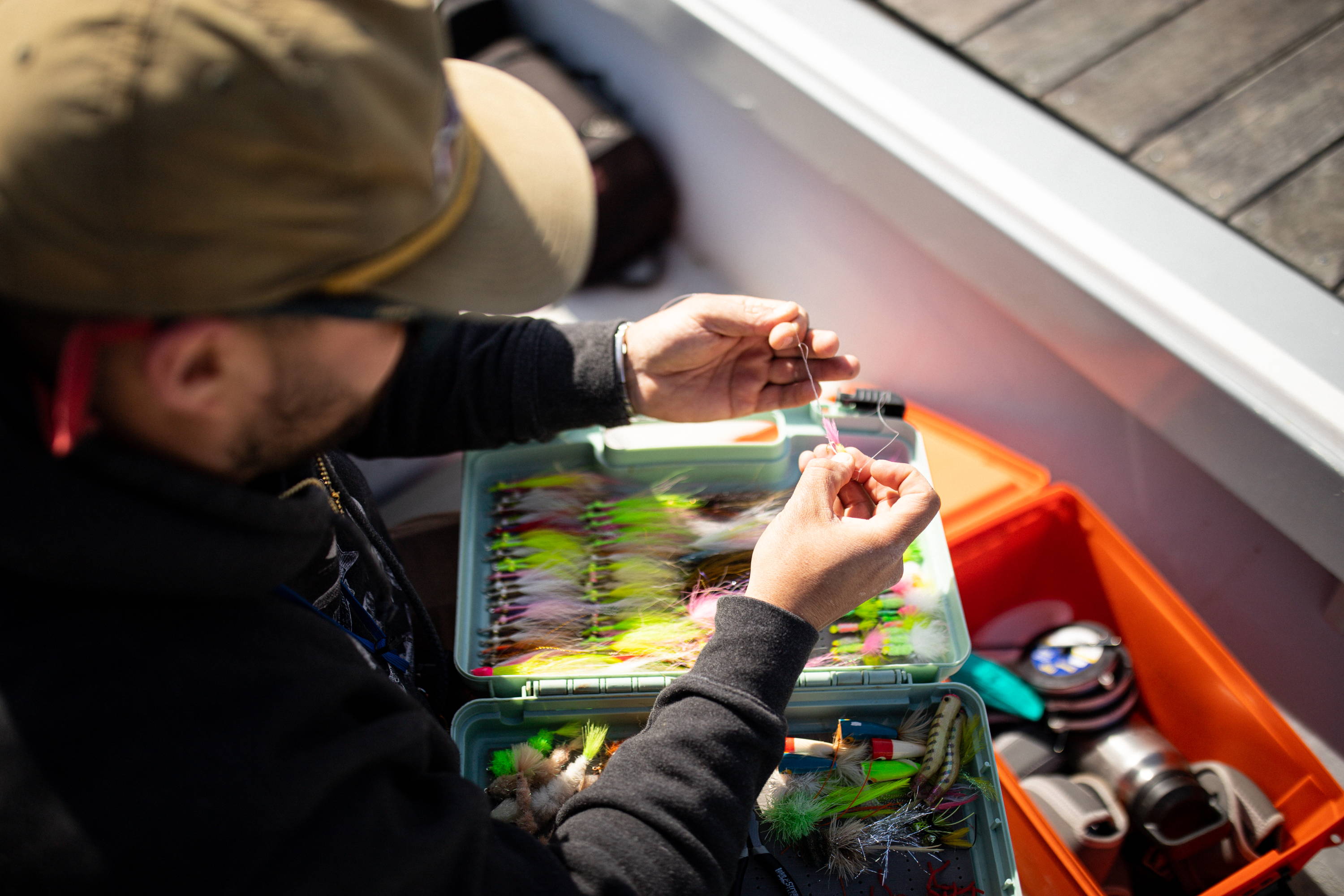 Capt. Simón selects a bright fly from his collection to tie onto his tippet
Early on in our research for our new fly fishing collection we were met with strong traditions and even antiquated practices within the sport. There was an obvious reputation within fly fishing of it being territorial, exclusive, and having high barriers to entry. Recently, anglers have been more vocal about wanting to move the sport in a new direction.
SIMÓN: One of the biggest barriers to entry is the cost. And that's the one I always struggle with. I've heard really great educators claim that it's cheap to get into, "you just need a $200 rod" and to me, that's not cheap! There's also a culture of keeping to your own circle of people with information and access. In Europe, it started with exclusive British salmon clubs."
At The Wild Wander, we're most inspired by nature meeting us where we are and we're lucky to have so much of it in our city's backyard that we can access. To us, one of the greatest things about Current Culture's approach is that they seem to be really focused on fishing in places that are accessible.
SIMÓN: "Creating access is huge because the moment that people get in touch with their resources they're going to care about them more and better.

How do I get someone from Richmond to buy a $200 fly rod that they might not know how to use and has been mystified by a small group of people for so many years."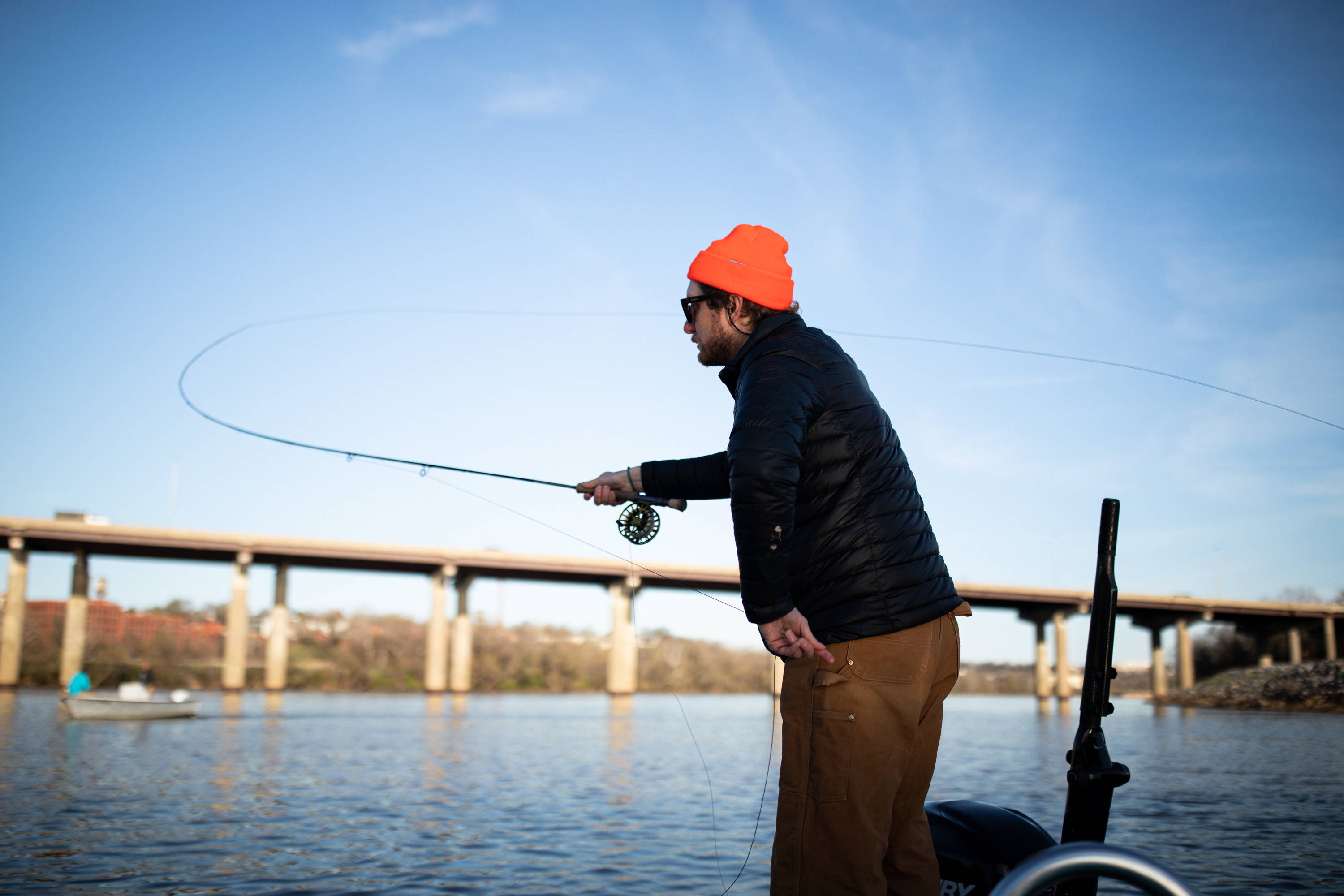 Capt.Reid Parker casting a fly rod on The James River with James River Interstate Bridge in the background
Current Culture challenges the perception of fly fishing by focusing their guide service on inner city James' water.

REID: "There are times that I joke with people if it's their first time fly fishing that what we're doing is a little specific, or a little different."

Booking the majority of their guided trips from March until June each year, they launch their blue skiff from a nearby public boat landing and work structural parts of the river. Mostly tossing heavier weighted lines with flies like shad darts, clouser minnows, lefty's deceivers tied to the tippet to target the anadromous American shad and striped bass.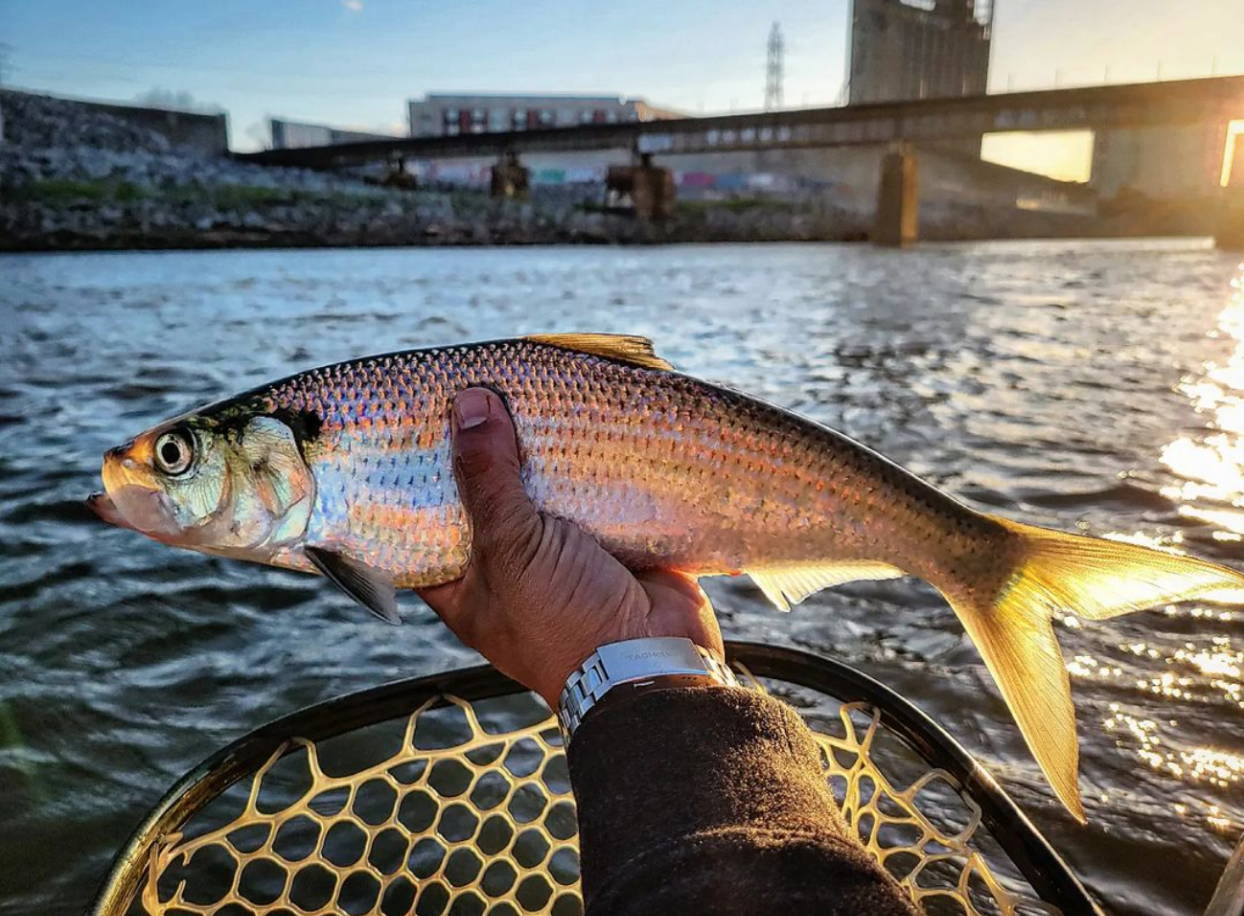 Photo of Capt. Simón holding a shad from Current Cultures instagram feed
We talked a little more with Current Culture about what drives their personal interest in fly fishing.

REID: "There are a couple of things. Part of it is the cliche that it's a really intimate connection with nature. You're really forced to think about what you're participating in. Think about the ecology, the behaviors of this animal that you're trying to trick into essentially eating fake food.

Also it feels less curated. If you're on a hiking trail or a mountain bike trail, someone made that with the intention of someone to ride a bike there. Fishing is… it's just fish in a river on their own. You're experiencing this really natural, really organic thing."


Both captains mentioned being interested in parts of fly fishing on the niche end of the sport. Specifically, being intrigued by a lack of information about fly fishing for largemouth bass, a species dominated by spinning rods and tournament anglers. Inspired by professional anglers like Lefty Kreh and Flip Pallot who innovated the sport, they're excited to dig in and explore this popular sport fish on a fly rod.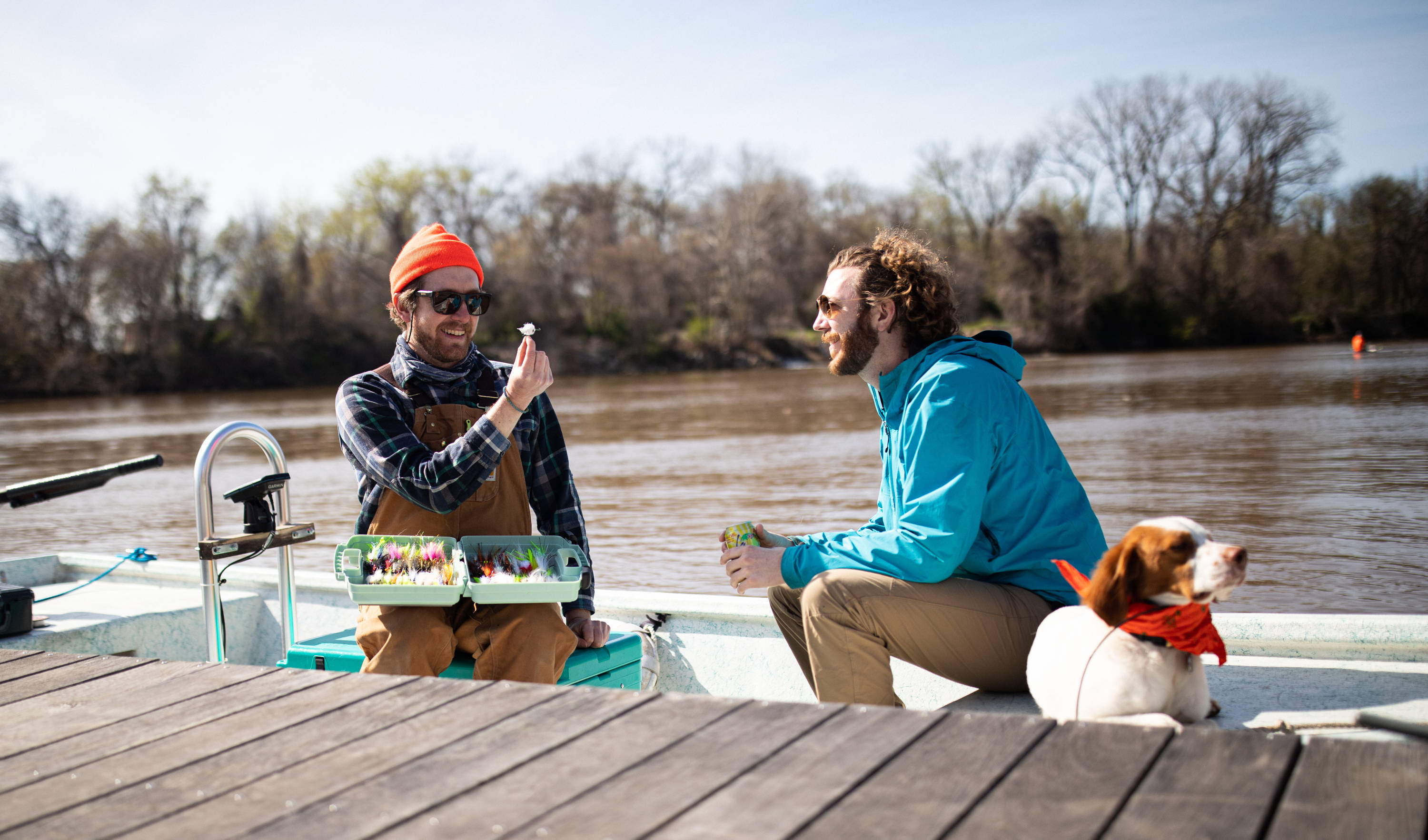 SIMÓN: There's tons of information on Largemouth bass and there's tons of information on fly fishing, but the crossover? There's not a good education out there. There's even tons of information for smallmouth bass, but largemouth… I don't know. Maybe it's a perception within the fly fishing community about who fly fishes for largemouth bass that they want to avoid?
REID: "Yea, competition bass fishing is like hair metal"
SIMÓN (laughing): "Yea, their shirts look like NASCAR shirts - They're going for speed and accuracy, which is awesome. And you can do that on a fly rod!"
Their excitement about digging into subcultures of fishing and fly fishing for unconventional species of fish was honestly contagious.
Using a fly rod in unconventional ways seemed to be a big throughline for both Reid and Simón, across many species of fish and bodies of water.
SIMÓN: I want more folks to experience the world with a fly rod. I think it adds value to their life, and there are fish everywhere! You don't have to just go to Montana! I go to Reedy Creek and pull out dozens of sunfish and the waters I fish are near and dear to my heart.
I don't have to fly to go fishing. I can do it right here! You can fly fish anywhere. Ask yourself "where do I want to fly fish?" and fish there!"


I think Current Culture's unique approach to fly fishing is what draws folks to it. This is exactly what drew us to them. We find our personal curiosity around nature stoked by exploring nature where it meets us or in unconventional ways. We love Current Culture's response to "what is fly fishing" and can't wait to spend more days on the river with them!

Take a look at our new FLY FISHING COLLECTION for a closer look at how fly fishing has inspired The Wild Wander.
---